Humboldt Rifle & Pistol Club
Supporting The Shooting Sports in Humboldt, Iowa Since 1958.


Affiliated with NRA and CMP and promoting a safe shooting environment
for our members and youth.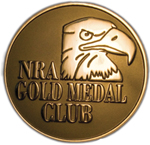 ---
Outdoor Range Is CLOSED until April 1


======


Next regular club meeting Thursday, April 13 at 7:30 pm.


We need to get summer events scheduled.
If you are interested in an event, bring info to the meeting so we can discuss.
Some suggestions include:
NRA High Power Rifle - 3-Gun Match - "Prairie Dog" Match - Rimfire Sporter - "Post Shoot" - Action Pistol -
"Steel Challenge" - America's Rifle Match

All it takes is you getting involved! There's no reason we can't have a couple club matches every month.
We have NRA certified Range Safety Officers that will be at every club event.


=====

NRA Basic Pistol Class Saturday, April 1

8am - 5pm. This class satisfies the requirements for Iowa concealed carry permit.
It includes live fire at our indoor range.

Class info click HERE.
Registration form click HERE.

=====


Outdoor Range Cleanup Saturday, April 8 - a.m.
Rain Date Saturday, April 22

Put this on your calendar! We need help getting the outdoor range shined up for another season. This will include cutting down some trees & brush, setting a new post for the gate, repairing the target area, sealing the benches, etc. Many hands will make this project go smoothly. And you get credit voucher for your work to be used toward your membership dues.

=====


NRA Sanctioned Pistol Matches start May 31 - 5:30 pm.
Matches May 31, June 7, June 14, June 21.
Same course of fire as our winter bullseye league, exept this is fired outdoors at 25 yards.
Because the targets are bigger, your sight picture is identical and your scores will probably be similar.

This is a 4-week Wednesday eveing league starting at 5:30 pm.
We should have plenty of daylight to shoot two relays if we need to.

Contact Diane Bacon for more info, and to sign up!

Registration form click HERE.

=====
LIKE US ON FACEBOOK!
https://www.facebook.com/humboldtriflepistol


====================

Check the club calendar
for scheduled events.
If you want something added to the calendar, email pstorr@ncn.net


====================
---
---
==== RIFLE & HANDGUN COMPETITION OPPORTUNITIES ====


See info at these web sites:
---
---
NRA Basic Pistol Instruction
Our club has several NRA Certified Pistol Instructors: Gerry West, Pat Storr, Bill Holden, Jim Mertz, Kerri Mertz, Les Bacon, Phil McLaren, Doug Bacon, Kent Stern, Tim Vought, Chris Brock, Brian Ernst, are all certified to teach NRA Basic Pistol classes.
If you know of anyone interested in taking a class, contact one of the instructors.
---
2017 Officers:
Bill Holden - President
Jerod Hatcher - Vice president
Secretary - Phil McLaren
Treasurer - Gerry West