Humboldt Rifle & Pistol Club
Indoor Range - 13 8th Street South ***** Outdoor range - 1941 215th Street

Supporting The Shooting Sports in Humboldt, Iowa Since 1958.


Affiliated with NRA and CMP and promoting a safe shooting environment
for our members and youth.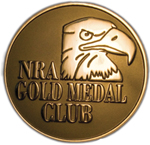 Outdoor Range IS OPEN!
=====
Monthly club meeting
Thursday, June 10, 7:30 pm

=====
Action Pistol Match Sunday, May 16, 9 am

Outdoor range will be closed for setup Saturday evening at 6 pm. Setup help is appreciated!
Match will be at the Erickson Outdoor Range, 1941 215th Street, Humboldt, IA.
$10 entry fee. Match will require less than 100 rounds of ammo.
More info as it becomes available.
Contact Jim Mertz for more info.

Outdoor range available for regular use after 1 pm Sunday

====


.22 Rifle Silhouette Match
Sunday, June 6 1:00 pm

You'll have time to check your sights prior to the match.
You're targets will be steel chickens, pigs, turkey and ram targets set at 40, 60, 80 and 100 meters. You will fire 10 shots at each stage.

====


Outdoor Bullseye Pistol in June!
There are 3 bullseye pistol matches scheduled for June 9, 16 and 30.
Matches will be at the outdoor range starting at 5:30 pm
These matches are the same as fired indoor, except we use larger targets at longer ranges.
More information as we get closer to June.


=====
Watch the Club Calendar!


We want everybody to enjoy our facilities, and we all need to work together to utilize range time.

Scheduled events always have priority for range use.
If you want to organize an event, bring your idea to a club meeting so we can discuss and get it scheduled.


======
NRA dues required for club membership

You can renew through the club. It's cheaper than through regular channels:
$35/year or $85 for 3 years or $125 for 5 years.
Plus you support our club because the club gets a commission from each membership!
=====
LIKE US ON FACEBOOK!
https://www.facebook.com/humboldtriflepistol


====================

Check the club calendar
for scheduled events.
If you want something added to the calendar, email pstorr@ncn.net


====================
---
---
==== RIFLE & HANDGUN COMPETITION OPPORTUNITIES ====


See info at these web sites:
---
---
NRA Basic Pistol Instruction
Our club has several NRA Certified Pistol Instructors: Gerry West, Pat Storr, Bill Holden, Jim Mertz, Kerri Mertz, Les Bacon, Phil McLaren, Doug Bacon, Kent Stern, Tim Vought, Chris Brock, Brian Ernst, are all certified to teach NRA Basic Pistol classes.
If you know of anyone interested in taking a class, contact one of the instructors.
---
2021 Officers:
President - Justin Kirchoff
Vice President - Shane Bailey
Secretary - Jim Mertz
Treasurer - Gerry West
Chief Range Safety Officer - Bill Holden